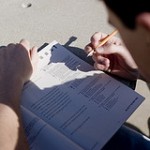 10. Study ahead of time so that you don't cram.
9.  Spend your time wisely.
8. Get Sleep.
7. Eat a good breakfast the morning of the test.
6. Review your notes.
5. Take your time.
4. Read the questions carefully.
3. Check your work.
2. Be organized.
1. Do your best.