If you read my 'What I Notice' post, you are aware of the delight I take in seeing hearts all around me. I do not go looking for them, they find me. It is a reminder to be present and be conscious of what is right in front of me at any given moment. There were many hearts and much love in India, so I will share a few with you.
Cows are sacred in India. As the sun rises, the local cows go from house to house and are given the first bread of the day. This cow in Jaipur walked by our hotel each morning.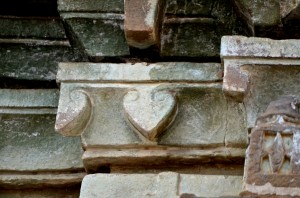 Jainism is an Indian religion that values nonviolence towards all living beings as well as spiritual interdependence and equality between all forms of life.  The three main principles of Jainism are Ahimsa (Non-Violence), Anekantvad (Non-Absolutism) and Aparigraha (Non-Possessiveness). People who follow the Jain religion have a strict diet where they will not eat anything that harms animals. Some will not eat root vegetables because small animals may be hurt while harvesting. They are also careful not to step on any insects. This heart was outside the Jain temple in Jaipur.
Do you see it in the barbed wire outside the flower and vegetable market in Jaipur?
We participated in Puja at Pushkar Lake.Puja is a prayer ritual performed by Hindus to honor and worship deities or to spiritually celebrate an event. We put our rose petals in the holy water of the lake near the end of the ceremony.
Finally, I found this woman captivating. I wish I could have asked her the story behind her heart. There is so much to love about India!