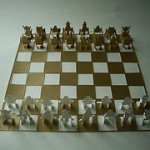 Photo From:
http://www.flickr.com/photos/38838670@N08/5187233083
In class, we read a book called The Westing Game. It is not a very long book, but it is so intricately compiled and written that it matches the detail of a book twice its depth and length. It is categorized as a "cozy mystery", which means that it is set in a small town, with wealth, and there is death with no gore and detail. I enjoyed reading it and finding out the possible solutions to the Westing Game Mystery.
The actual answer is so off track from what I had surmised that I was shocked. It was not a suspenseful or exciting book, but it was interesting all the same. We learned the elements of a mystery in class. They are Family, Information, Games, Patriotism, and Identity. Family plays a part because of the main character, Turtle. She is in a family in which she is not the favored child, but instead, quite the opposite. Information plays a role where some characters try to find out all about the other Westing Heirs. Games play a huge role. Sam Westing was a chess master, and he was famous for the queen's sacrifice. When someone is playing chess with Theo, Doug finds out who it is, which leads to an important discovery. Patriotism is also very important. Sam Westing was a huge patriot who was famous for his Fourth Of July pageants. This novel is short, but it is amazingly detailed.
Posted with Blogsy