December, the time for final tests, holiday assemblies, and difficulty concentrating with the anticipation of vacation! I am so proud of all of my students as they worked hard until the very last day of school. Learning happens in many ways as depicted below. I want to give you just a glimpse of some highlights from our last few weeks together in 2014.
Open note tests can be harder than memorizing facts. We used books, iPads, Mindmeister, My Maps (Google), hand written notes, and each other to help prepare for the Wisdom Tales test.
Instead of our monthly Book Talk in the library, Mrs. Longee did Speed Booking with us. We got to preview many more books and then take time to read as we do every day both in and out of the classroom.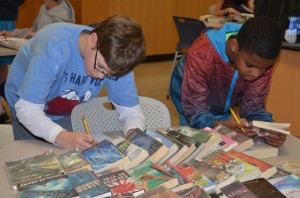 On Tuesday, December 9th, we participated in an Hour of Code. We explored www.tynker.com and www.code.org to learn the basics of coding. We have the Hopscotch app on our iPads and some students who are already proficient with coding continued projects in higher level programs.
As we are starting to think about what we want to research for our TED-Ed Club talks later in the year, we learned about Power Pose from Amy Cuddy's TED talk Your Body Language Shapes Who You Are. We are learning about what we see in other people's body language as well as what we communicate with our own, but did you know you can change your body's chemistry just by the way you sit or stand? See Amy's talk to learn more.
The Egyptian Harvest Festival was a chance to share the pyramids students built and taste Egyptian food. Thank you Ms. Johnson and Ms. Saffo!
Have you ever wondered what it is like to be eleven years old? Our 5th and 6th graders had the opportunity to view the documentary I Am Eleven by Genevieve Bailey. In addition, we got to Skype with Ms. Bailey. It was three o'clock in the morning in Australia for her!
Field Day in December? The 5th and 6th graders came out with warm cheer in chilly weather.
We ended our final week with some games. One is called Human Slide Show. Students in this generation still know what a slide projector is if you can believe it! We acted out scenes from our Wisdom Tales unit. There could be no movement, no props, and no sound. The body language says it all! This took collaboration and creative thinking all planned in 15 minutes.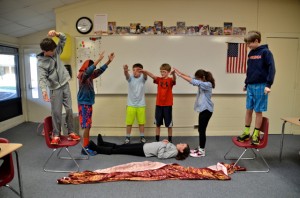 Another game we enjoy is the card game Blink. In less than five minutes, students are enhancing their active working memory and automaticity. They also learn about their own learning style. This is a fabulous way to take a brain break too. Try it! You will find it hard to stop.
Finally, I must say again that I am so proud of the efforts, the risks, and the enthusiasm these students bring each and every day. In addition to all of this, I posted over 152 new blog posts that were written by these 6th graders about the experiences illustrated in this post. If you want to find out more about the Egyptian Harvest Festival, Hour of Code, what they have read so far this year for independent reading, or real life examples of morals, use my blog post link www.pdroom212.edublogs.org and click on the student blogs listed to the right. I encourage you to view blogs you haven't read yet and comments are welcome! It's almost like getting a real letter in the mailbox. Please remember we value the process of writing and the progress, not perfection. Reflection is important for learning too. You will see just that if you look at one of the first blog posts compared to more recent ones.  If you haven't read about my travels to India, now is your chance.
~Namaskar~