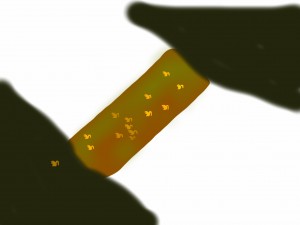 Squirrel and His Foolish Friends
Once upon a time, there was a forest. In this forest, there lived a tribe of squirrels. All of the squirrels in this tribe were daredevils, except for one squirrel named Bob Scaredy Squirrel.
One day, Bob was talking with his friends, when they heard raucous laughter. Bob's friends went investigating while he admired a caterpillar as it made its way up a tree. In the middle of its ascent, a lizard jumped from a nearby branch, grabbed the caterpillar, and started to run. As soon as it was out of sight, Bob heard a voice calling his name.
"Bob, come here Bob, you have to see this!!!!" Bob ran past the trees and saw, spread out on a cliff, a colossal log. Squirrels were running all over the log, their claws clacking against the wet wood.  Suddenly, there was a large crack and the log dipped a few feet. All the squirrels gasped, then started laughing. It seemed that the crack only enticed them more to go on the log, not to run away.
"Come on Bob," Bob's friends urged. "This log is really cool!!! It even cracked a little bit!!" Of course Bob, being a smart squirrel said no. When Bob's friends started urging him even more, he started arguing. When the squirrels started chanting his name, Bob gave in.
He started to slowly walk towards the log, trying to not be scared. When he set one foot on the log, Bob started thinking of all the horrible things that could happen to him if he went on the log.
"No!" Bob declared, "I won't do it!" And with that, Bob walked off into the forest. He walked for a little while, when he heard a large crack, and squirrels screaming, loudly at first, then slowly getting quieter. Bob raced back to find that the log had broken, and all the squirrels had fallen to the rocky ground below.
Moral: Do what's right. Don't give in to negative peer pressure.