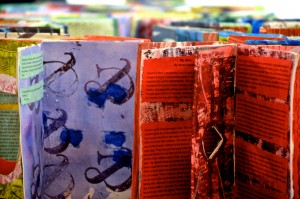 Photos by Patti Donnelly
Each year we begin a journey of connection, reflection, and heartfelt moments. What I love most about teaching Language Arts to 6th graders is learning with them. A close second is how we can experience reading, writing, speaking, technology, and creativity every single day. Our Hero project is all of that and more.
We return from winter break and begin thinking about a hero. It has to be someone we know and value in our life. As we are brainstorming heroic traits and interview questions, the handmade book making process begins with local artist, Peg Gignoux. The first session is a collaborative effort to paint and pattern as much paper as possible.
Folding a big, white piece of paper is harder than it seems. There are several steps involving some technical spatial skills.
Piece by piece, we trust that the from layering random colors, a work of art will emerge. There is no prototype to copy or pencils to sketch. There are scissors, glue, and our memory of a meaningful moment with our hero.
Now we have to decide how to cut the portal to our heroic scene.
Peg giving her sage advice
The last step is attaching the front and back cover and gluing in the story.
Once the books were dry and pressed, Peg displayed them at FRANK Gallery in Chapel Hill, North Carolina. As if the experience wasn't exciting enough at this point, last Wednesday we came together as a community to share our stories at the gallery. Many heroes walked in not knowing they were the one being honored. Emotions were high and smiles broad.
Sister honoring brother
Daughter honoring mother
Son honoring dad
Friends sharing a forever moment
Moments of pure joy!
Thank you Peg! You are our hero!