I'm not sure the first day it started but hearts appear in many forms in my path. Mom and I were going through trunks of family photos this weekend and we found several handmade items from my youth. All of them had hearts drawn on them. I don't go looking for hearts. That's the best part. The serendipitous moment when my eyes come across what looks like a heart makes me pause, even for a millisecond, smile, and know in my heart that I am on the right path. I particularly like seeing hearts when I am out running. If nothing else, it's a bit of a distraction from my the many miles of pounding pavement.
My rule is I cannot change anything. I take a picture of what I see as it is in that moment.
The heart at the top was revealed as we were loading the bus on our last day of Camp Cheerio with sixth graders. I found out about a close relative's passing while on this school trip. Was it Rock's message to me? Was it Cheerio saying that we'd had an incredible trip this year? Was it random? It does not matter. It made me smile. Another cool ripple effect is that friends and family from around the world share hearts with me. A simple gesture that says so much about how we are all connected. Yes, connected with technology, but more importantly, by a human connection. We recognize and validate what other people value, what other people are passionate about, and by kind gestures that warm other people's hearts.
So as you go about your day, what do you notice? What makes you curious? What gives you pause?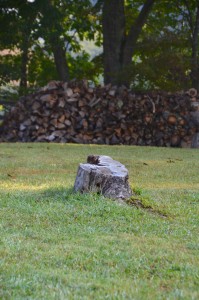 Do you see it in the distance?
Will you see beyond what you think you see?
To find the heart of the matter?
Like a four leaf clover, sometimes you find two!