August 2019
October 2019
November 2019
12-20-19
January 2020
February 2020
3-16-2020
Last day on the middle school campus
Every year I walk to our classroom and this is one of the things I notice. It reminds me of what we go through each school year. We arrive full of summer experiences with a little green. We gain color and wisdom with each day feeling fuller and more vibrant. As we learn and grow, we shed what we don't need providing more room for new experiences and perspectives. At times we feel cold, drenched, and even vulnerable yet new life appears. We didn't get to see how our adopted trees changed since March but they did change and that is a given. With that change begins a new cycle come August. We do not know what our days will look or feel like yet but honestly nobody does, ever.
Each day we wake up and 'get to' not 'have to' throughout our day. While at school we took some things for granted. While at home, we reminisce about what we long for when we were at school. As we return to campus, hopefully, next school year, those same thoughts will pop up. What we need to understand is that we can like one thing and dislike another thing at the same time. It does not have to be all one way or another. To further feel grounded and in a place where we own our own learning, we need to understand what works best for us, how we can leverage our strengths, and how we can strive for improving upon things that are more challenging for us. All the while, we do this in a community, our DA family. We are a part of a larger entity striving for excellence and including everyone who wants to show up on that journey. Yes, we have to show up. We have to decide what we are willing to give, do, and act upon. Each day since March 16th has felt like a mix of a fantasy world with harsh reality. I want to share some moments with you.
We had no idea when we left for spring break we would be learning at a distance
As we approached the end of spring break, we got the news on March 15th  that school will be different.
On Monday, March 16th, I was on the middle school campus for the last time. Teachers met, sitting 6 feet apart, to learn how we would continue learning together.
3-16-20
We were introduced to Microsoft Teams and set up our classes. On Tuesday, March 17th, there were virtual meetings firming up details. I was helping Señor Glass and Madame Moore with a new program at the Bruegger's near our campus when we got word that the dining area would be closing to the public until further notice. This was getting real.
3-17-20
For a while, I held out hope we would be back together again. At the same time, I looked forward to hearing your voices and seeing your faces when we met online for advisory, classes, and scheduled meetings.
There were many times when I say, "How fascinating!" as I ask you to do when things are not going as planned. Seven days a week, I have checked my laptop before 7am, throughout the day, and again around 9pm to check assignments, give feedback, plan for the upcoming week, and answer questions. Nothing replaces being together, face to face, responding spontaneously but we are fortunate to be together as a learning community during a time when many cannot.
March 2020
One of my favorite authors, Brené Brown, says "Authenticity is a collection of choices that we have to make every day. It's about the choice to show up and be real. The choice to be honest. The choice to let our true selves be seen." We had choices every single day during this stay at home, remote learning, pandemic. We chose to show up. All of you know my favorite wisdom tale we read this year has the moral, your own eyes are watching. Ultimately, nobody can make us do something. It has to come from our heart. We learned how compound effect, our daily actions, not only create habits but give back exponential goodness. We experienced this with the plank challenge which was followed up by choosing something to do every single day from drinking water, to push ups, or writing in the planner.
On our classroom door
Plank Challenge November 2019
Think about how many books and pages we read on our own this 6th grade year. We discovered new authors, genres, and new worlds. Our writing improved because we read through a writer's eyes. Visiting authors shared their wisdom and visiting author, Frances Dowell, wrote stories with you! Artist Peg Gignoux helped us create our own handmade hero books which we will share when we are together again.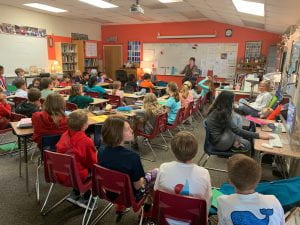 Frances Dowell
Handmade Hero Books with artist Peg Gignoux
Think about our I Am statements and our one word this year. We posted our index card with our I Am statements at home and were going to say them to ourselves every morning and every night. How we talk to ourselves as well as others, is powerful.
My one word was Thriving but I am adding self-discipline. In order to achieve my goals, I have to take daily action. I have to choose to take that action and I do it because my own eyes are watching. Ultimately it is up to me to get where I want to go even if I'm not totally sure where I'll end up. I always learn from others, ask for information, and have an accountability partner to share ideas with. I own my decisions as they guide me going forward. I hope you keep your Life List and refer to it now and then. Add to it, check things off, and remember that anything is possible. It begins with curiosity.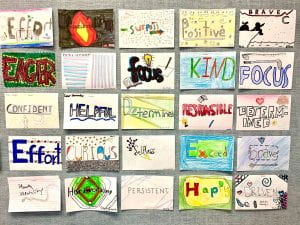 One Word
Camp Cheerio is a rare moment for many reasons but most of all, we get to see what we are capable of while making new friends. After our visit to the Forestry Center, I wonder how our adopted tree on campus is doing now without all of us around? Nasher Museum, Stagville, and the Sound Wall project all bring smiles.
Camp Cheerio August 2019
Nasher Museum, Durham
Forestry Center
Getting materials from the Scrap Exchange to make sound walls for local preschools
Keep reflecting, creating, and sharing on the blog. I was struck by what Cana wrote at the end of her 6th grade year review. She shared, "As the COVID-19 pandemic continues, I learned that I don't like watching problems pass by, but like solving them instead. I am coming up with new ideas to try to help in any way that I can, and consider being an informed citizen very important. I also learned the importance of things I took for granted, like hand sanitizer, the healthcare system, and the true value of friendship, which I used to think was not very important. I have learned many lessons this year, from good and bad experiences alike, had a lot of fun, learned a lot, and made new memories."
Everyone experienced some kind of loss and some kind of gratitude. This year our oldest daughter got married and a month later, I lost my father.
Jordan, Nicole, and Brynn
October 5, 2019
My dad taught me how to tell stories through my lens, my window and my mirror
Jordan is working in the MICU in Charlotte, NC where all of her patients are Covid positive. She makes sure every patient and their family feels heard and cared for.
Jordan
Brynn's four year experience as an exercise science major at UNCW included two hurricanes and having to leave campus before her senior year ended due to the stay at home order. She's loved playing soccer her entire life and even gave basketball a try with Coach Harris when he taught at Phillip's Middle School.  She is excited about beginning PT school at Elon in January.
We have to go about our daily lives differently now with physical distancing and smaller gatherings.
Mrs. D and Madame Moore at Harris Teeter
No toilet paper in sight
We may have to show we are healthy in new ways before coming on campus each day. My husband has to do this for work each day too.
Nick Donnelly
There are many times when we wanted to escape our reality as Maggie is jumping and barking to get outside. Think of all of the things you discovered, created, did more of, or let go of because of this experience.
We now have a vegetable garden
And have had time during the light of the day to get outside and move.
A friend shared this and I think it rings true now and for always.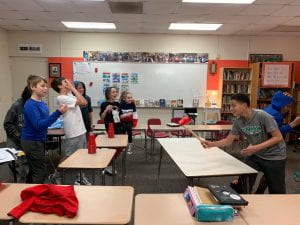 We are about 6 feet apart here having fun. We can do this!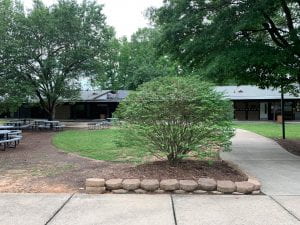 May 28, 2020
Stay safe, call a friend, write a letter, read a book, be curious and kind…
It's been fascinating!