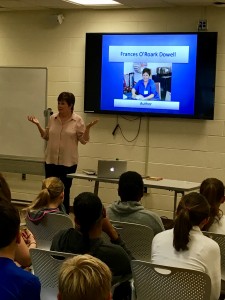 Photo by Patti Donnelly
What did you read this summer? Sixth graders at Durham Academy Middle School chose one of Frances O'Roark Dowell's many books to read this summer. The first book I read of hers was Dovey Coe. It is set in Boone, a place I have been many times before. I wanted to read that book because it sounded like it would be about a strong female character mixed with a murder mystery. The way the characters talked in the story made me feel like I was not only going back in time, but also right there with the locals. Read Dovey Coe to find out if Dovey is innocent or not.
The next book I chose to read a few summers ago was Shooting the Moon. The two main reasons I chose this book was my love of photography and the fact that my dad was also in Vietnam. When we listened to Frances O'Roark Dowell share with us yesterday, she too is an Army brat. She, like me, had to move every couple of years, leaving things behind, forcing me to make new friends, and letting some things go forever.
Adults often ask us what we want to be when we grow up. Frances had many things she was interested in or passionate about like drawing cartoons and writing poetry. She even thought about going in to law like her father because she liked to argue. Frances taught at the university level. Following that, she moved to the mountains and pursued her passion. During the day she cleaned houses and she wrote during her free time. Then the story went in a drawer. Life went on.
With the help of a friend, an editor, and many mornings spent writing and writing, Frances now has many books published for young children to adults to read.
When we discussed all of the books we read this summer, we discovered that most of her books are realistic or historical fiction, they are often told in first person, and the main themes are family and friendship. Frances writes about things we can all relate to in some way. One of her new books will be about basketball. If you could choose the topic of her next book, what would it be?