Materials used during our visit and hati (elephant) painted by Elizabeth on our tour
While in Jaipur, we had the opportunity to see the ancient art of miniature painting in action. The brushes have chipmunk hair and are sometimes dipped in paint infused with gold. The artists can only work for limited hours a day as the experience is delicate, tedious, and intense. To learn more about this intriguing art form click here: Rajasthani miniature paintings  (not the artist we visited). I brought home a miniature painting of Ganesh, god of wisdom and learning and the remover of obstacles.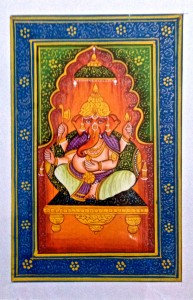 I shared the hati (elephant), drawn by the artists we visited in Jaipur, with my 6th graders in Durham, North Carolina. Although my students did not use gold for paint, their final creations were spectacular. I believe the artists in Jaipur would be honored to work beside these 6th grade artists!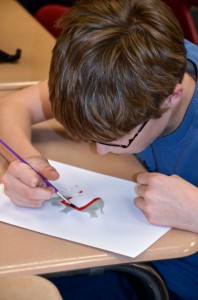 Come to room 212 to see the rest!